Dudarev Mikhail/shutterstock
1 / 26 Dudarev Mikhail/shutterstock
REMOTE CONTROL
The good news is that you just roll out of bed and hop on the computer. The bad news? You just roll out of bed and hop on the computer. Love it or hate it, remote workers are being sought by an increasing number of companies — law firms, publishing companies, public relations agencies and more, which means goodbye office cubicle, hello world. Indeed, some people use mobile technology to combine work with globetrotting rather than just working from home.
"We can work with whoever the best people are, wherever they are," says Chris Boehlke, co-owner of Bosar, a PR firm with totally virtual offices. "It's also about having complete flexibility — everyone belongs to one team and we can access each other digitally. It eliminates the issue of people being in silos."
Here are some top employers making commutes a thing of the past.
2 / 26 wavebreakmedia/shutterstock
AMDEE
About: A design and development agency specializing in small to medium-sized websites, AmDee is 100 percent staffed by remote workers. It's not unusual for employees to globetrot, says Elyssa Respaut, a project manager who has worked from Oregon, Yosemite National Park, and while biking cross-country.
Typical Remote Opportunities: Graphic designers with user experience and interface skills; developers who know WordPress and Drupal; and project managers skilled at managing details, deadlines, clients, and designers.
3 / 26 Dragon Images/shutterstock
LEADFEEDER
About: This website visitor-tracking start-up says remote work has been central to its growth, because it attracts top talent. About half of Leadfeeder workers are based in Finland; the remainder are worldwide.
Typical Remote Opportunities: Software engineers, marketing specialists, and business development professionals.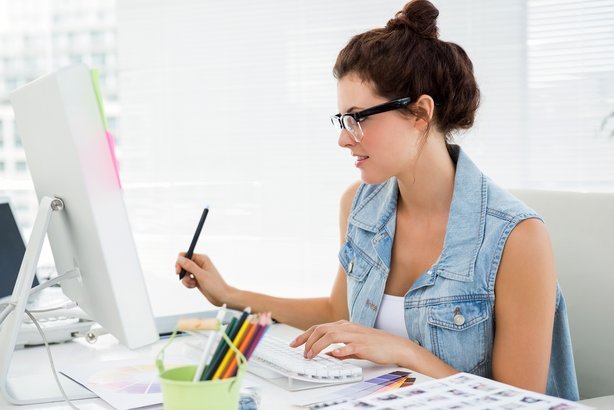 4 / 26 wavebreakmedia/shutterstock
CODE CONTROL
About: A company that provides developers, designers, and project managers to create websites, apps, and more, Code Control employs almost exclusively remote employees. It has more than 200 workers around the world. Join its Slack community, where it posts job proposals.
Typical Remote Opportunities: Developers and designers, including Android developers, back-end developers, C++ developers, data scientists, front-end developers, full stack developers, and mobile app developers.
5 / 26 Syda Productions/shutterstock
VISIT.ORG
About: This start-up New York City social impact travel company provides immersive travel experiences with local nonprofits and other organizations around the world, now in 65 countries.
Typical Remote Opportunities: "City leaders" who serve as point person in a particular locale, including finding and visiting community-based and nonprofit organizations that can offer visits to the public.
6 / 26 Bloomicon/shutterstock
INVERSE CULTURE
About: Founded in 2014, Inverse Culture sells streetwear made by independent brands. The company's entire team is made up of digital nomads.
Typical Remote Opportunities: Social media manager, sales and education account managers, and community managers.
7 / 26 NakoPhotography/shutterstock
CANIRANK
About: Though based in San Francisco, CanIRank is another tech company relying predominantly on remote workers. Founded in 2010 and featured in The Wall Street Journal, CNET and on Fox News, it helps small businesses and start-ups improve online visibility.
Typical Remote Opportunities: Remote technical SEO specialists.
8 / 26 Jonathan Weiss/shutterstock
XEROX
About: This old-school Connecticut copying company was founded in 1906 but now makes everything from document technology to software and supplies. It has 35,000 employees around the globe.
Typical Remote Opportunities: Production sales specialists, legal support executives, and client managers.
9 / 26 goodluz/shutterstock
INTUIT
About: Does QuickBooks and TurboTax ring a bell? How about Mint? All are Intuit products. It's hard to do taxes, maintain a budget, or manage small-business accounting without the company, founded in 1983 and based in Palo Alto, California. Intuit has a long list of remote jobs openings posted.
Typical Remote Opportunities: Tax advisers, customer service and support professionals, sales specialists, and legal managers.
10 / 26 Monkey Business Images/shutterstock
CULHANE MEADOWS
About: One of the largest, national, cloud-based law firms, Culhane Meadows has nearly 60 partners throughout Atlanta, Austin, Chicago, Dallas, Houston, New York, and Washington, D.C. Every employee works remotely. The firm attracts lawyers searching for a more collegial and flexible way to practice, co-founder and national recruiting manager Grant Walsh says.
Typical Remote Opportunities: Real estate partners, commercial litigation partners, and patent partners.
11 / 26 WAYHOME studio/shutterstock
THE CONTENT FACTORY
About: The Content Factory is a digital content, public relations, and social media marketing agency representing several national brands. Owner Kari DePhillips, who founded the company in 2010, also travels the world working remotely. Employees are required to be available just for scheduled client and company meetings.
Typical Remote Opportunities: All employees start out as freelance copywriters. The position becomes permanent full-time or part-time, depending on worker preference, after a trial period.
12 / 26 Eric Broder Van Dyke/shutterstock
AMAZON
About: Does this online commerce behemoth need description? Founded in 1994, it has grown into the largest Internet-based retailer in the world. But founder Jeff Bezos hasn't stopped there — it's also a cloud services provider, has branched into digital media, and sells its own electronic devices, among other things. Amazon has a virtual-position web page.
Typical Remote Opportunities: Customer service associates, asset managers, and account managers.
13 / 26 michaeljung/shutterstock
SUTHERLAND GLOBAL SERVICES
About: Based in Rochester, New York, Sutherland Global Services provides analytics-driven information technology services, as well as back-office and customer-facing solutions. The company employs more than 38,000 people in about 20 countries, from the United States to Australia, Brazil, Bulgaria, Sweden, and Egypt.
Typical Remote Opportunities: Senior data scientists, technical consultants, and client engagement partners.
14 / 26 goodluz/shutterstock
KAPLAN
About: Anyone who has studied for a graduate school entrance exam has heard of Kaplan. The 75-year-old global company offers a variety of education and instruction for undergrads, graduates, and professionals seeking to further skills, It also provides corporate training and works with universities to attract international students.
Typical Remote Opportunities: Remote account directors, a variety of instructors, and nurse practitioners.
15 / 26 Roman Samborskyi/shutterstock
BOSPAR
About: An award-winning PR firm founded in 2015, Bospar's offices are entirely virtual. It employs 14 people, all working at home and traveling when needed for client meetings or staff gatherings. The quickly growing Bospar represents tech clients from start-ups to publicly traded companies, including Ebates and SOASTA.
Typical Remote Opportunities: PR associates in the Bay Area who will work from home.
16 / 26 ESB Professional/shutterstock
WORLDWIDE 101
About: Founded in 2009 by Sandra Lewis, who rejected the stress of commutes and office politics, Worldwide 101 supplies virtual assistants to executives, company founders, small-business owners, and more. The entirely remote company employs about 83 people throughout the United States and Europe.
Typical Remote Opportunities: People with experience in administration, customer service, marketing, or project management.
17 / 26 WAYHOME studio/shutterstock
BOOK IN A BOX
About: A publishing start-up founded in 2014, Book in A Box was developed to help experts go from idea to finished book. Its support includes positioning and outlining, writing, design, publishing, and marketing. A totally remote operation, the company has about 25 full-time remote employees and more than 100 freelance writers.
Typical Remote Opportunities: Full-time publishers and editors — between 20 to 30 every few months.
18 / 26 ESB Professional/shutterstock
APPEN
About: Speech and search technology services are the focus at Appen, a company founded in Australia in 1996. Appen works with technology and ecommerce companies developing products, helping them expand into global markets. It employs a network of specialists and in-country virtual teams.
Typical Remote Opportunities: Translator, validator, and linguist.
19 / 26 HconQ/shutterstock
HUMANA
About: This for-profit health insurer has more than 13 million customers and in 2013 was ranked No. 73 on the Fortune 500. It's based in Kentucky but has more than 52,000 employees around the country.
Typical Remote Opportunities: Medicare sales agents, referral supervisors, and case managers.
20 / 26 Kzenon/shutterstock
THERMO FISHER SCIENTIFIC
About: Thermo Fisher Scientific, founded in 1960, has more than 55,000 employees globally and a long list of remote opportunities for biotech experts. It is one of the leading companies in genetic testing and precision laboratory equipment products.
Typical Remote Opportunities: Health systems specialists, clinical sales consultants, and business development managers.
21 / 26 Monkey Business Images/shutterstock
APPIRIO
About: Appirio is an award-winning IT company based in Indiana that specializes in cloud technologies. Founded in 2006, it works with some of the world's most well-known brands, including eBay, Facebook, and Home Depot.
Typical Remote Opportunities: Business analysts, consultants, and technical leads.
22 / 26 Pressmaster/shutterstock
TELETECH
About: The global business process outsourcer TeleTech, founded in 1982, has a significant work-at-home program that involves providing support and assistance for its customers, either over the phone, via chat, or on social media.
Typical Remote Opportunities: Senior adviser positions, executive director of business development insights, and bilingual instructors.
23 / 26 racorn/shutterstock
BROADPATH HEALTHCARE SOLUTIONS
About: BroadPath of Tucson, Arizona, was founded in 2008 to provide business, compliance, and tech services to health care payers and providers. The company works in the commercial and government sectors and has operations in 47 states.
Typical Remote Opportunities: Regional sales directors, claims adjusters, and pharmacy technicians.
24 / 26 Minerva Studio/shutterstock
MCKESSON
About: A nearly 200-year-old company, McKesson provides pharmaceutical and medical products as well as business services to retail pharmacies, hospitals, and health systems around the world. This massive company has been on the Fortune Global 500 companies list for 22 years and generates the fifth-highest revenue in the U.S. — topping $190 billion last year.
Typical Remote Opportunities: Technical implementation engineers, regional account managers, and medical oncology coding educators.
25 / 26 Pressmaster/shutterstock
BCD TRAVEL
About: BCD Travel works in 108 countries and employs about 13,000 people to help companies make the most of what they spend on travel, which includes helping keep workers safe and advising corporate procurement managers.
Typical Remote Opportunities: Account executives, account managers, and bilingual travel consultants.
26 / 26 logoboom/shutterstock
ADOBE
About: If you've ever opened a PDF attachment or used Photoshop, you've encountered Adobe. The San Jose, California, company is one of the most well-known software giants in the world. Its Careers page has "remote" filters.
Typical Remote Opportunities: Account executives, account managers, cloud solutions consultants, technical writers, and project managers.